To celebrate our 25th anniversary in 2015 we set up a £25,000 fund to support local causes.
We assembled a judging panel representing a range of interests:
David Briggs, MBE Lord Lieutenant Cheshire, Chair of judging panel; Dame Sarah Storey, DBE; Louise Minchin, Breakfast television journalist; John Halman, Managing Director, Gascoigne Halman.
The results we wanted to achieve were to:
give something back to the community they serve
have a positive impact on the lives of local people
meet a specific need in the local community
help disadvantaged groups or people in our area
provide a long-term benefit
As you can see below, we believe we achieved this please enjoy our sharing in the local community
GASCOIGNE HALMAN 25K COMMUNITY CHALLENGE RECIPIENTS
Mid Cheshire Riding for the Disabled wins Gascoigne Halman support
The first group to receive a financial donation was Mid Cheshire Riding for the Disabled, based in Ollerton. The charity received funding which has enabled them to pay for a year's supply of horse shoes for all the horses in their care.
This charity began over forty years ago and currently provides riding lessons to over 100 disabled members, who otherwise wouldn't have access to such an incredible local service. The interaction with the horses provides the riders, aged 5 and upwards, with exercise, education and enjoyment. The charity relies on over sixty loyal volunteers, many of which have been recognised with a long service award, including a number surpassing the thirty year mark.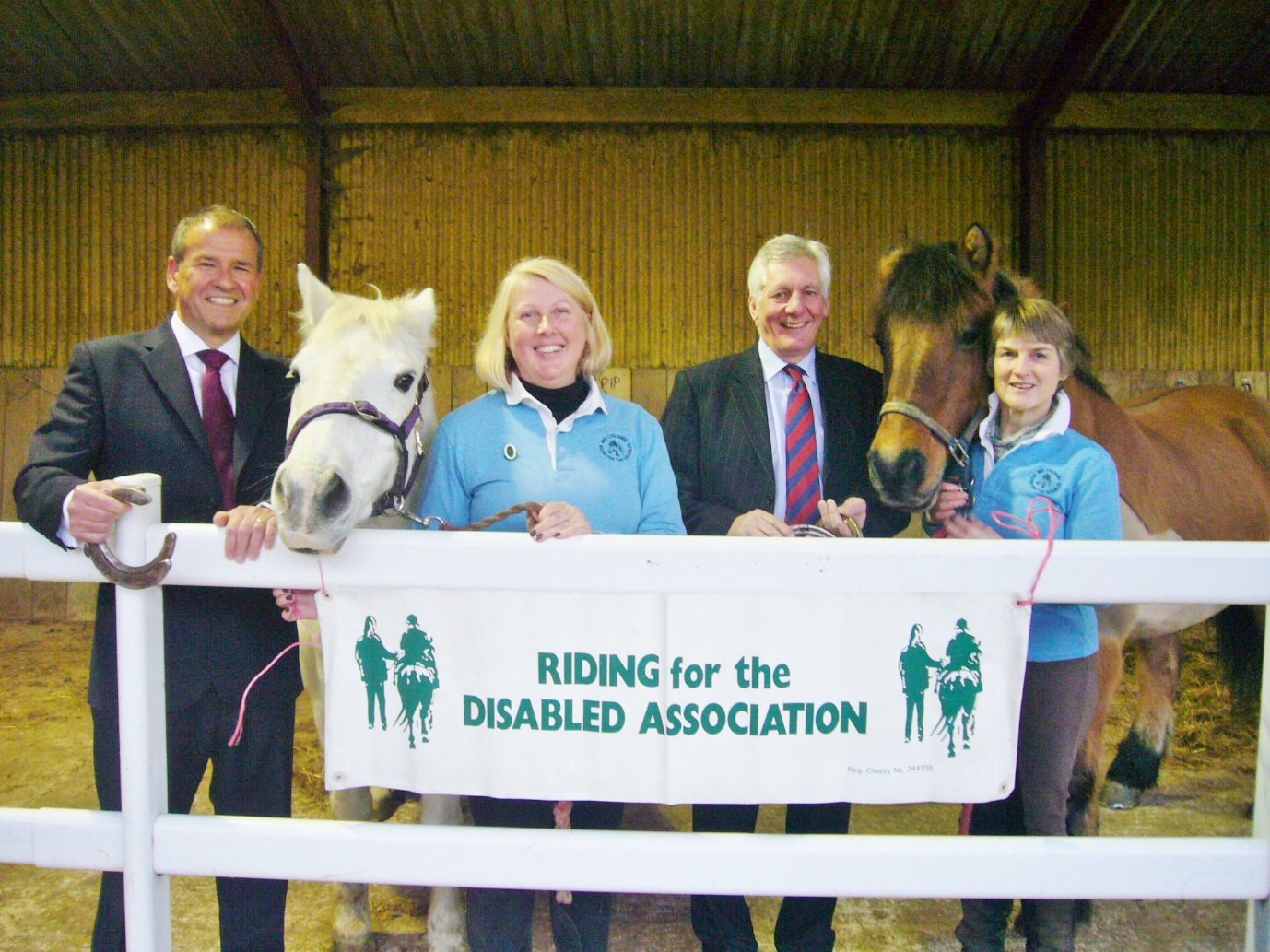 Gascoigne Halman funds dementia friendly day out
The charity, which began in September 2014, requested funding to provide their group with a day out at the seaside. The Dementia Friendly Heatons aim to create a more dementia friendly community in Heaton Moor. The group focuses on raising awareness of dementia whilst providing support to individuals with the illness and their family carers. The charity now has twenty five couples regularly attending weekly drop-in sessions, where individuals can share experiences, information and support each other in a relaxed environment.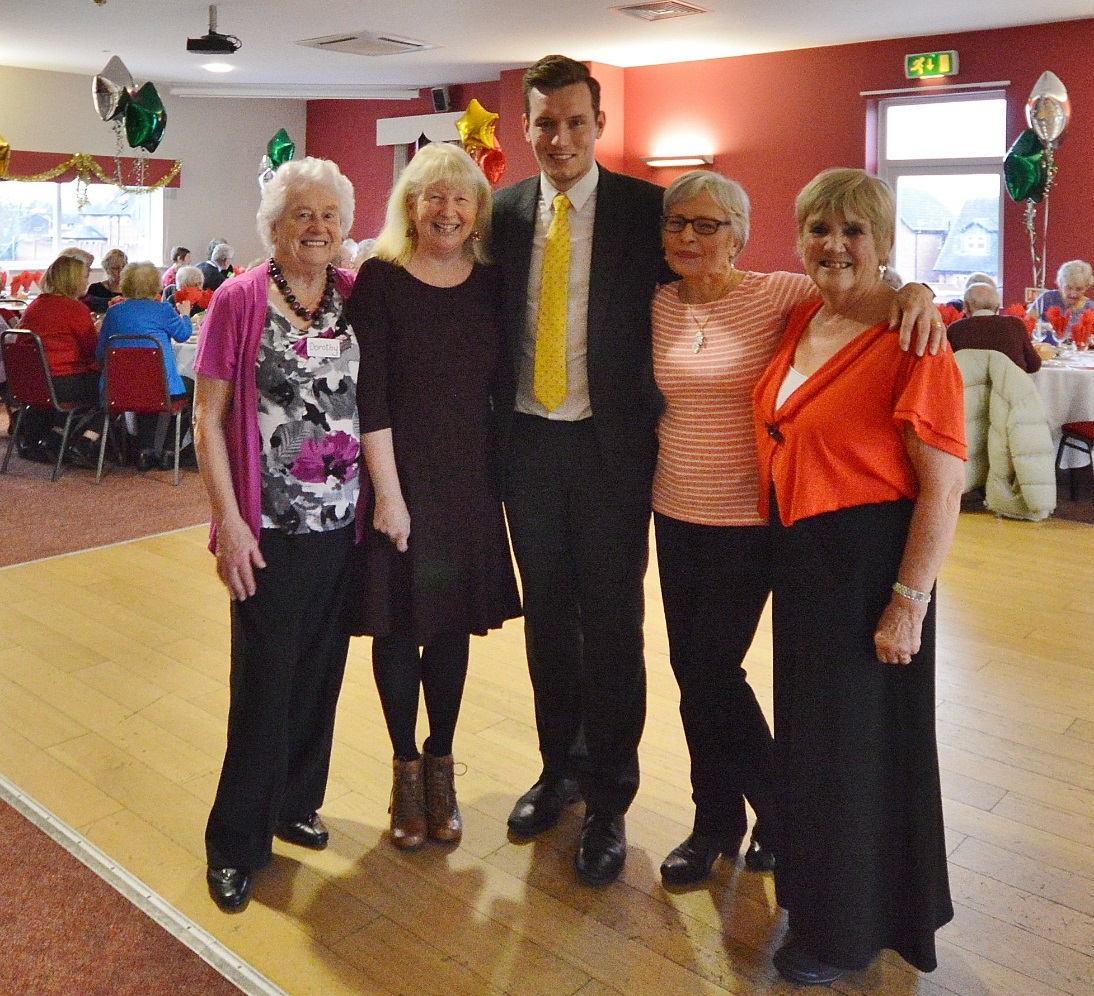 Jump Space left jumping for joy
Jump Space is a specialist recreation centre providing trampolining, rebound therapy and sensory play to disabled and non-disabled people of all ages. The charity caters for individuals and groups with various disabilities from autism to ADHD, cerebral palsy to cystic fibrosis, and Down's Syndrome to Asperger's Syndrome. The group which began in 2008, requested funding to facilitate a six month long programme of rebound therapy, which would benefit vulnerable young people with profound disabilities.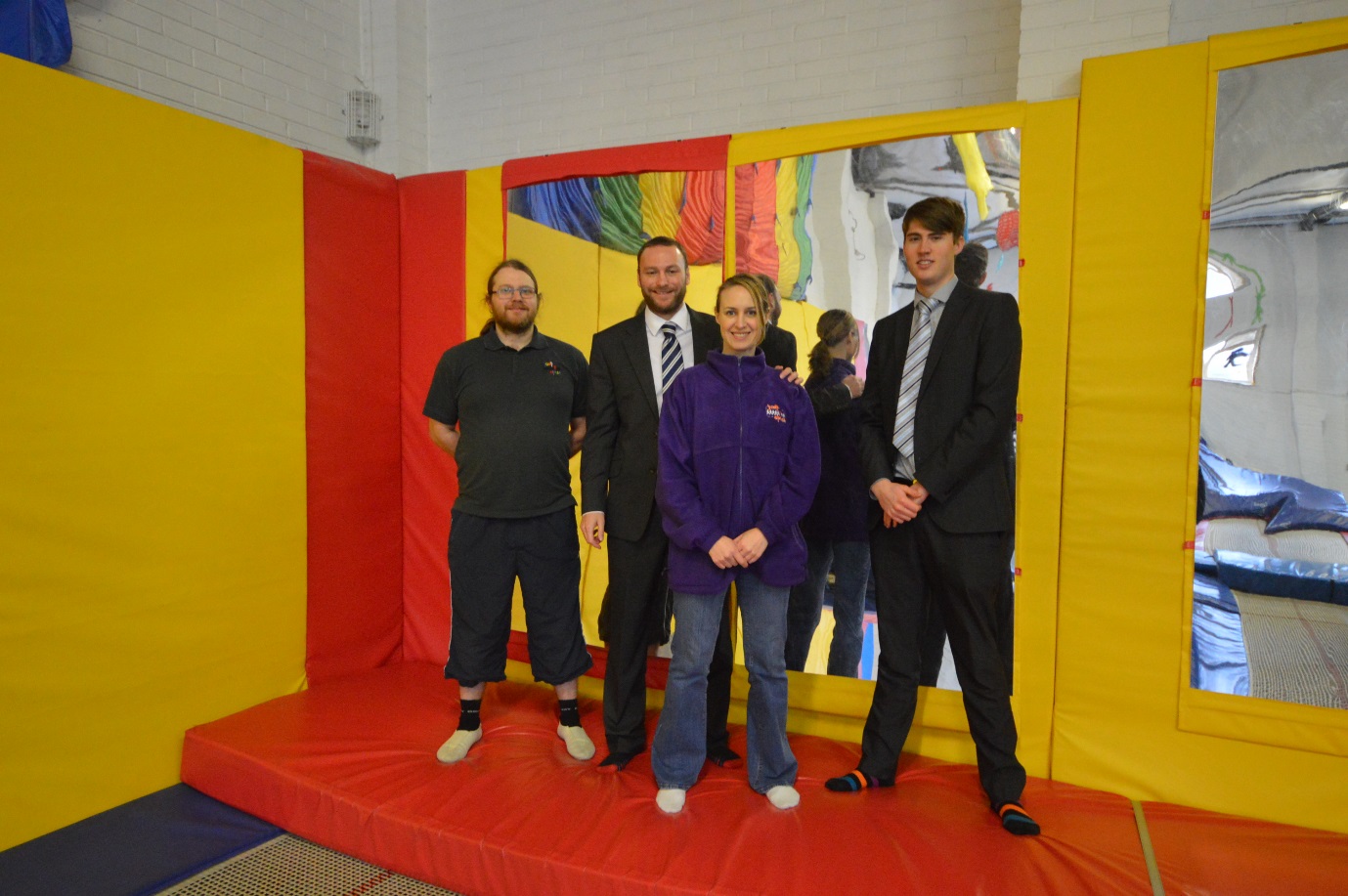 Photo caption:(L-R)Jump Space Instructor Craig Edmondson,manager of Gascoigne Halman Cheadle Leighton Snow, Jump Space co-ordinator and fundraiser Joanne Lake and Gascoigne Halman lettings consultant and sales negotiator Chris Dodd.
Gascoigne Halman makes a splash in Poynton
Local estate agent, Gascoigne Halman has donated a £770 slice of their £25k Community Challenge fund to the Disabled Swimming Club, based in Poynton.
The Poynton Disabled Swim Club provides free swimming lessons and swimming activities to anyone with a disability. The charity, who are based at Poynton Leisure Centre, requested funding to help pay for the day to day running costs of the club. The group relies heavily on volunteers, with a qualified teacher and three life guards attending each session. The charity serves the disabled community in Macclesfield, Poynton, and even surrounding areas such as Hazel Grove and Stockport.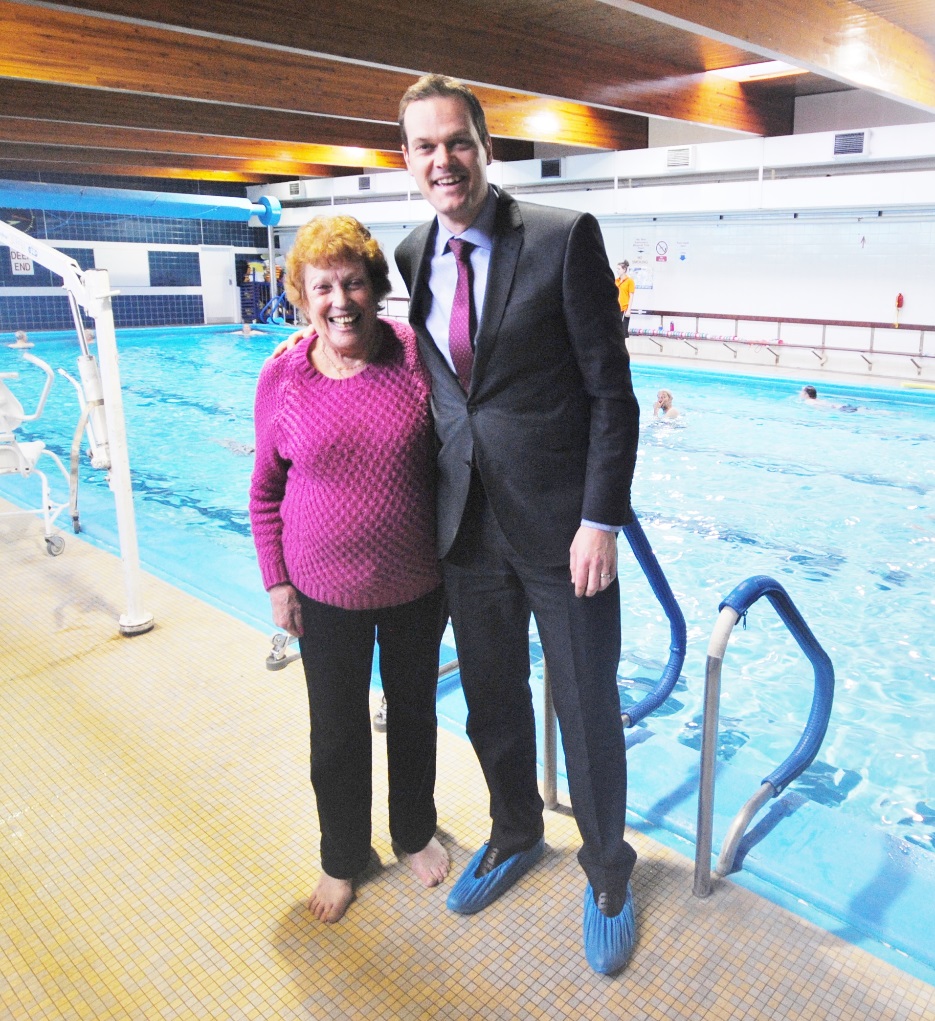 Photo caption: Doreen Harper, coordinator at the charity and Dan Brownhill, manager of Gascoigne Halman Poynton
Gascoigne Halman raises the roof
Brook Street Chapel applied for funding to help repair their Grade I listed chapel. The ancient oak beams inside the building needed urgent repair to maintain a safe environment for visitors and parishioners.
The chapel has a variety of uses in the local community including, social activities, exhibitions, concerts and regularly hosts local meetings. The chapel itself is situated in Brook Street Heritage Site, home to an exhibition about famous English novelist, Elizabeth Gaskell and her life in Knutsford, which attracts visitors from around the world.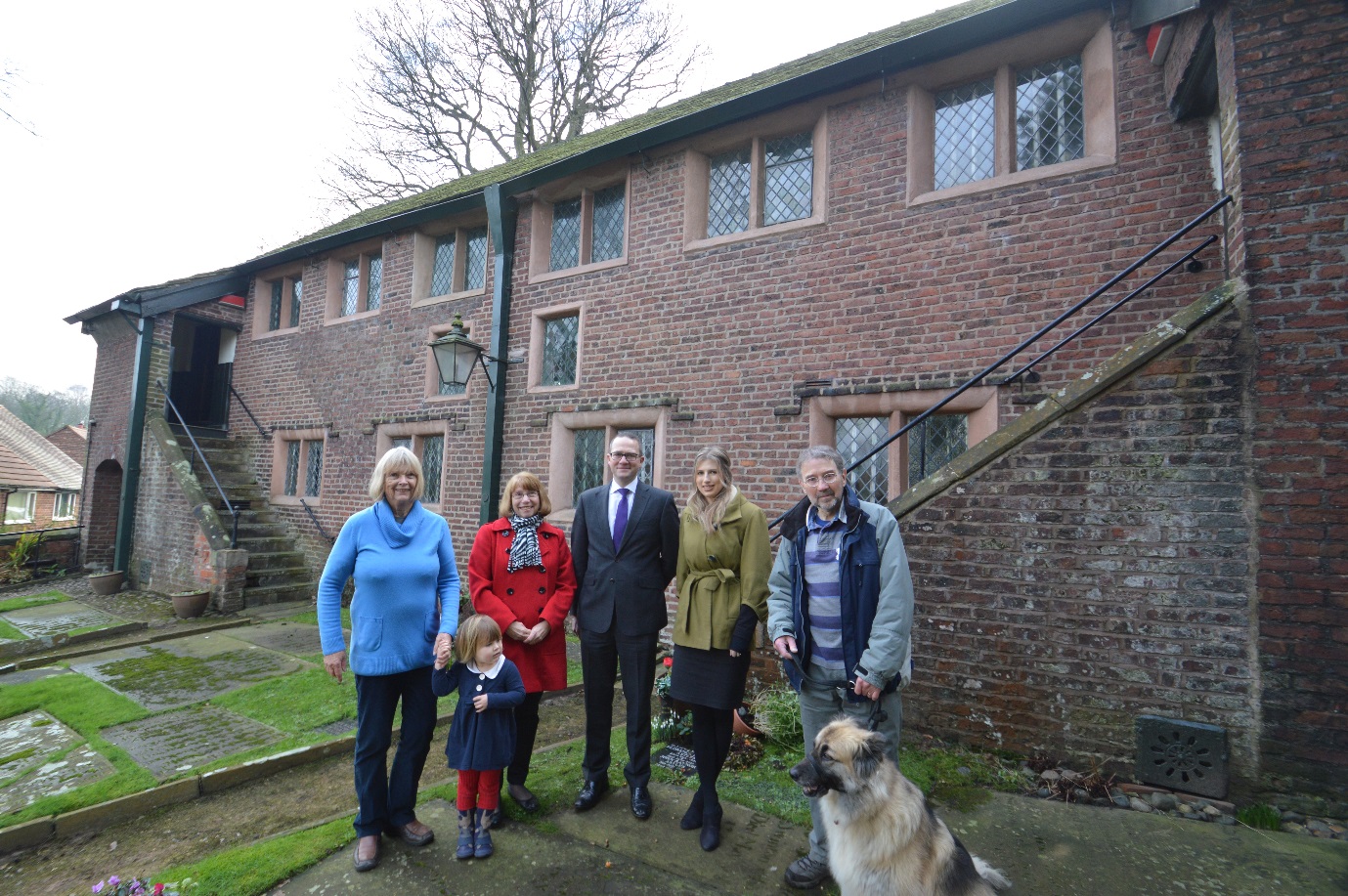 (L – R) Beulah Cornes, Freya Cornes (Child), Rev. Jean Bradley, Andrew Rogers, Susan Wilson, Steve Crowther, Meg the dog
Walthew House wins Gascoigne Halman support
Walthew House supports individuals who are visually impaired, hard of hearing or have dual sensory loss. The charity aims to support individuals through various activities including, arts and crafts, lunch clubs, youth clubs and tandem cycling. The charity, which was founded in 1882, requested funding to contribute to the costs of insuring and maintaining the tandems for amateur competitions and leisure riding. The charity focuses on supporting individuals physically and emotionally offering a variety of services including, one to one support, free counselling sessions and braille lessons.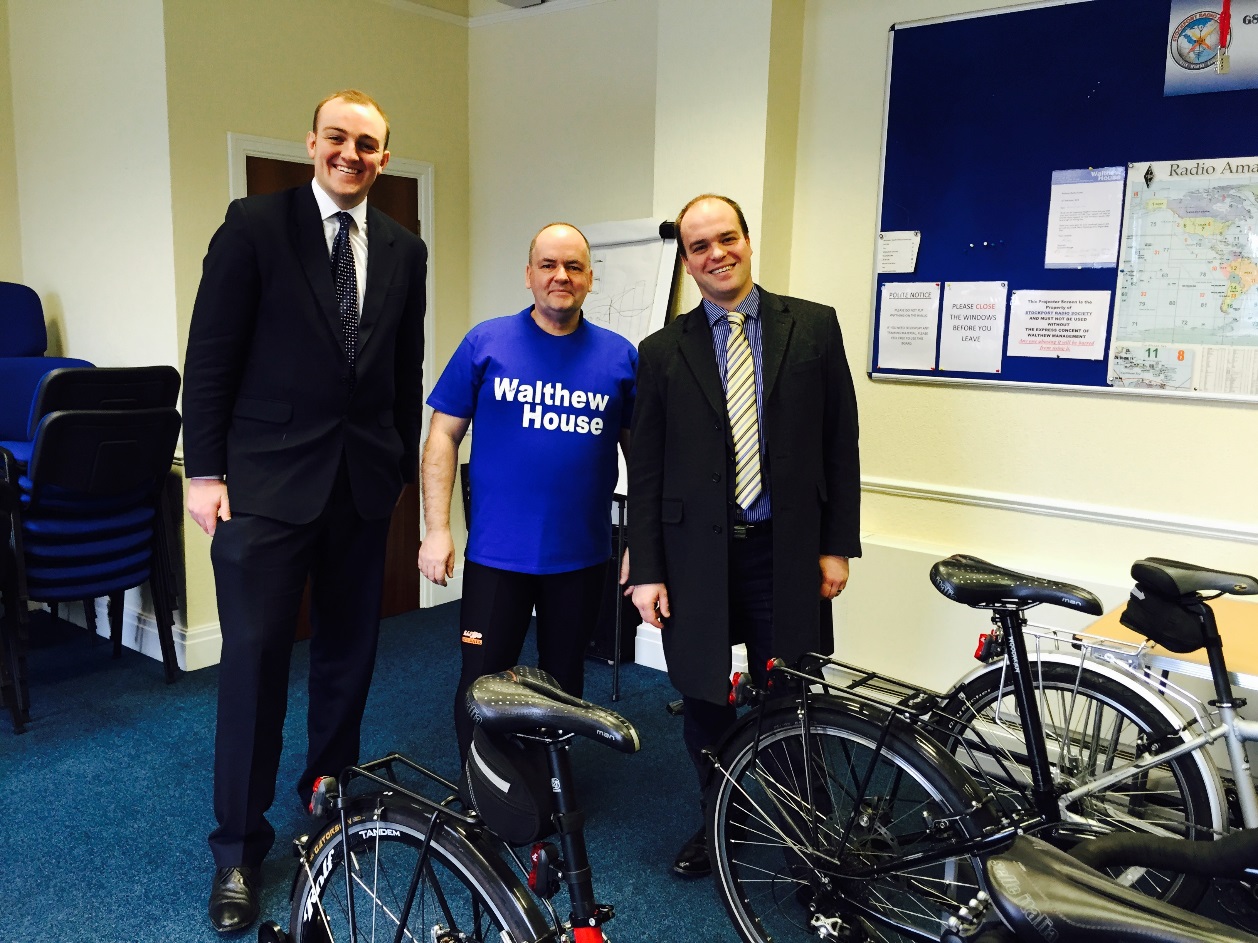 (L – R) James Nicholson from Gascoigne Halman Bramhall, Brendan Kelly, Tandem Group Coordinator at Walthew House and Matthew Clark manager of Gascoigne Halman Bramhall
Gascoigne Halman funds charity's day trip
New Way Forward, which was founded in 1979, aims to help and support individuals in the community with mental health issues. The charity helps over 100 people in the local area, providing services seven days a week, with a variety of activities on offer including arts and crafts, walking, healthy eating and physical exercise. The charity has previously enjoyed visits to places of local interest such as museums, art galleries and National Trust properties.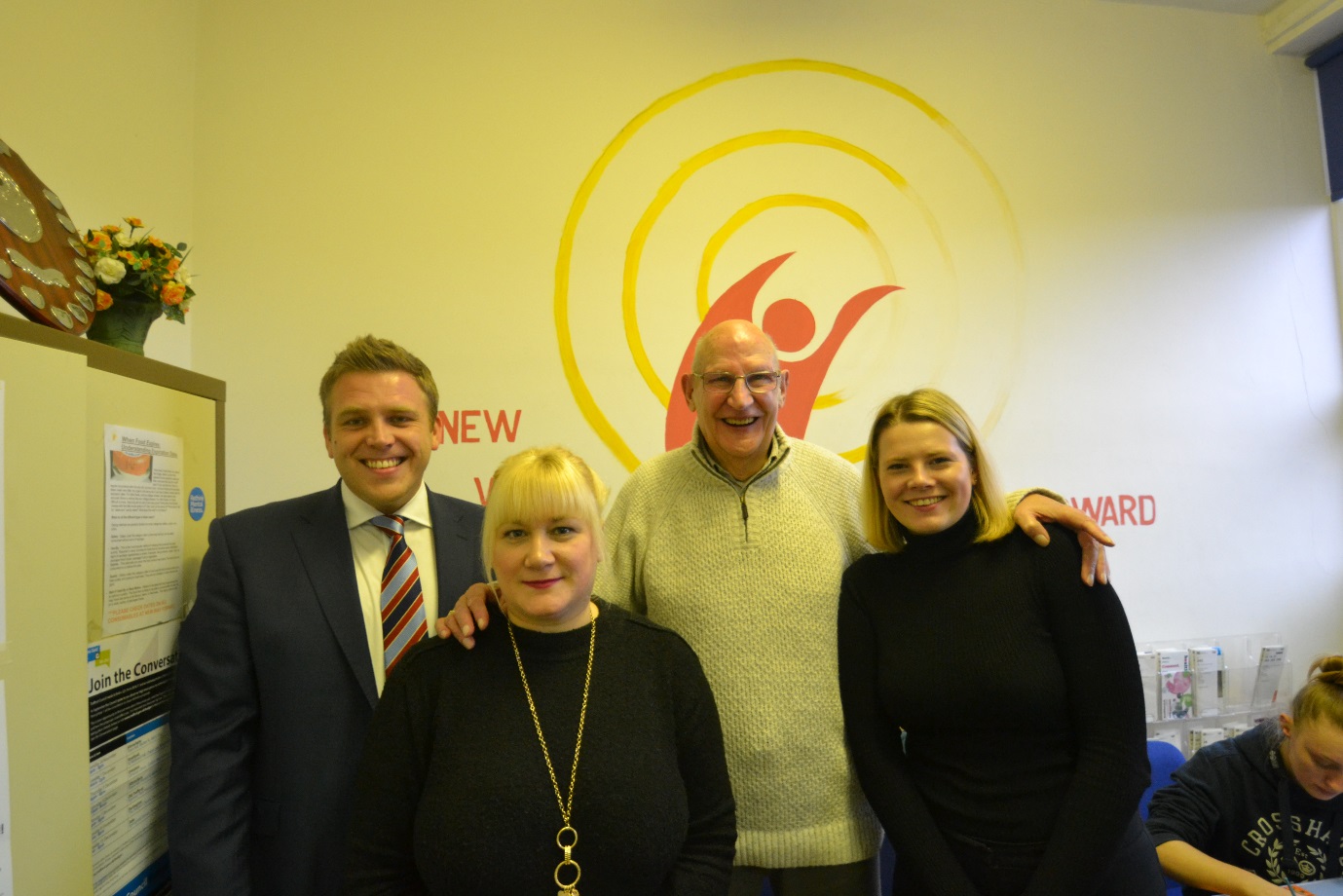 (L-R) Andrew Buckley (Branch Manager), Hannah Walls (Lettings Manager) from Gascoigne Halman Sale with William Holding (Charity Treasurer) and Cherisse Appleby (Volunteer)
Gascoigne Halman helps Hayfield Junior Football Club
The group which began in 2008, has developed in to a thriving community football club with around 130 children from six to sixteen years old attending. The club places great emphasis on fun and participation in, league, cup and friendly matches and training sessions, which are held on week nights at Chapel Leisure Centre. Each coach is FA qualified and volunteers their time at the club, which was awarded FA Charter Standard status in 2012 in recognition of the clubs commitment to quality coaching and child welfare. The club requested funding to buy new first aid kits which are taken to every match and coaching session, to ensure the children's safety.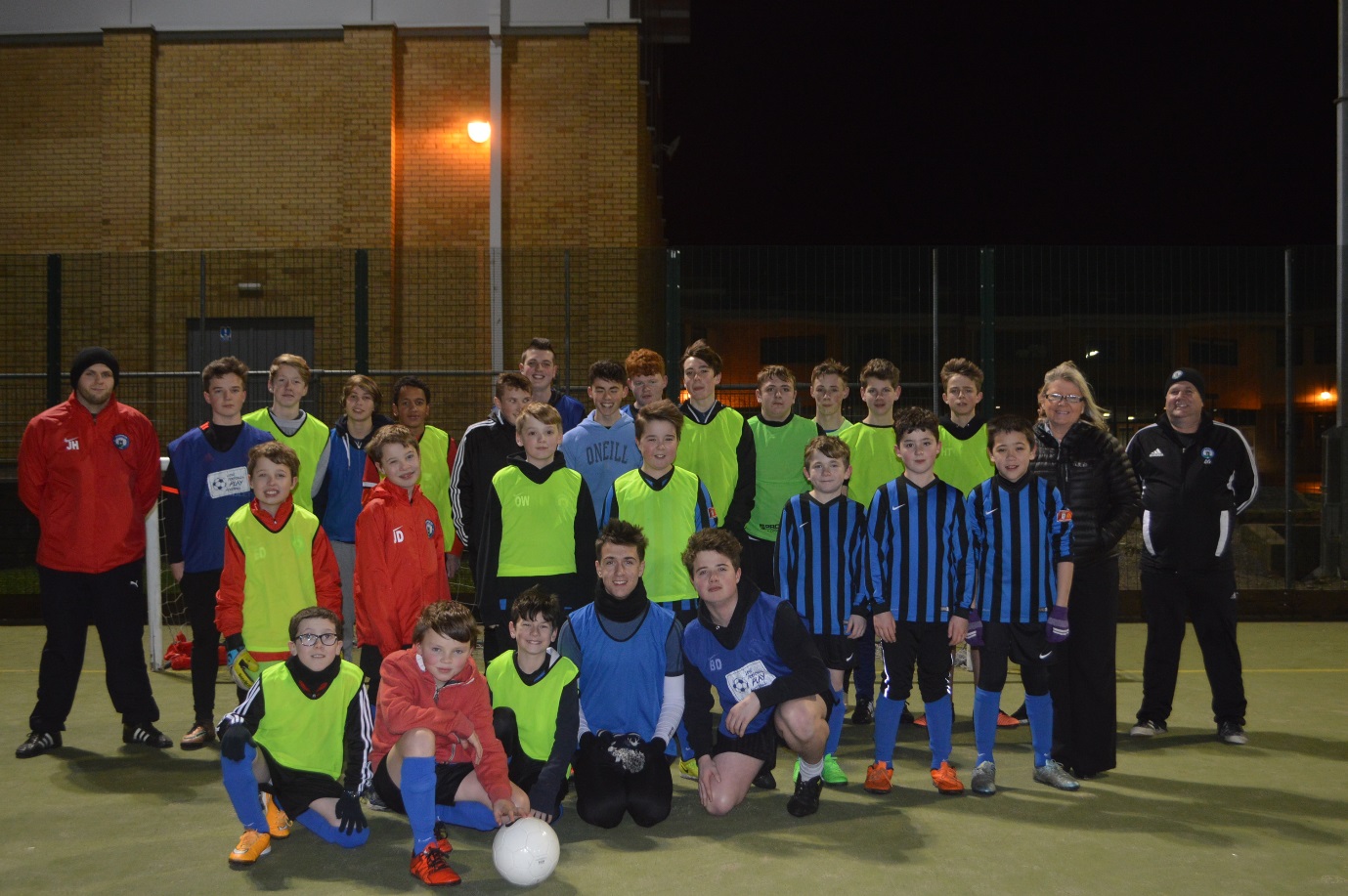 (Hayfield Junior Football Club players with Lorraine Batty manager of Gascoigne Halman Whaley Bridge and football coaches Steve Gerrard and James Howe)
Gascoigne Halman supports Friends of Memorial Park
The group take care of the facilities at Memorial Park and with the help of High Peak Borough Council aim to create a safe and welcoming environment for everyone in the local area. They requested funding to install a basketball practice area and basketball hoop after a survey of local residents revealed a demand for a new type of play area. The park has recently been awarded the prestigious Green Flag Award, which celebrates high standards, beautifully maintained gardens and excellent facilities, naming it one of the best in the UK.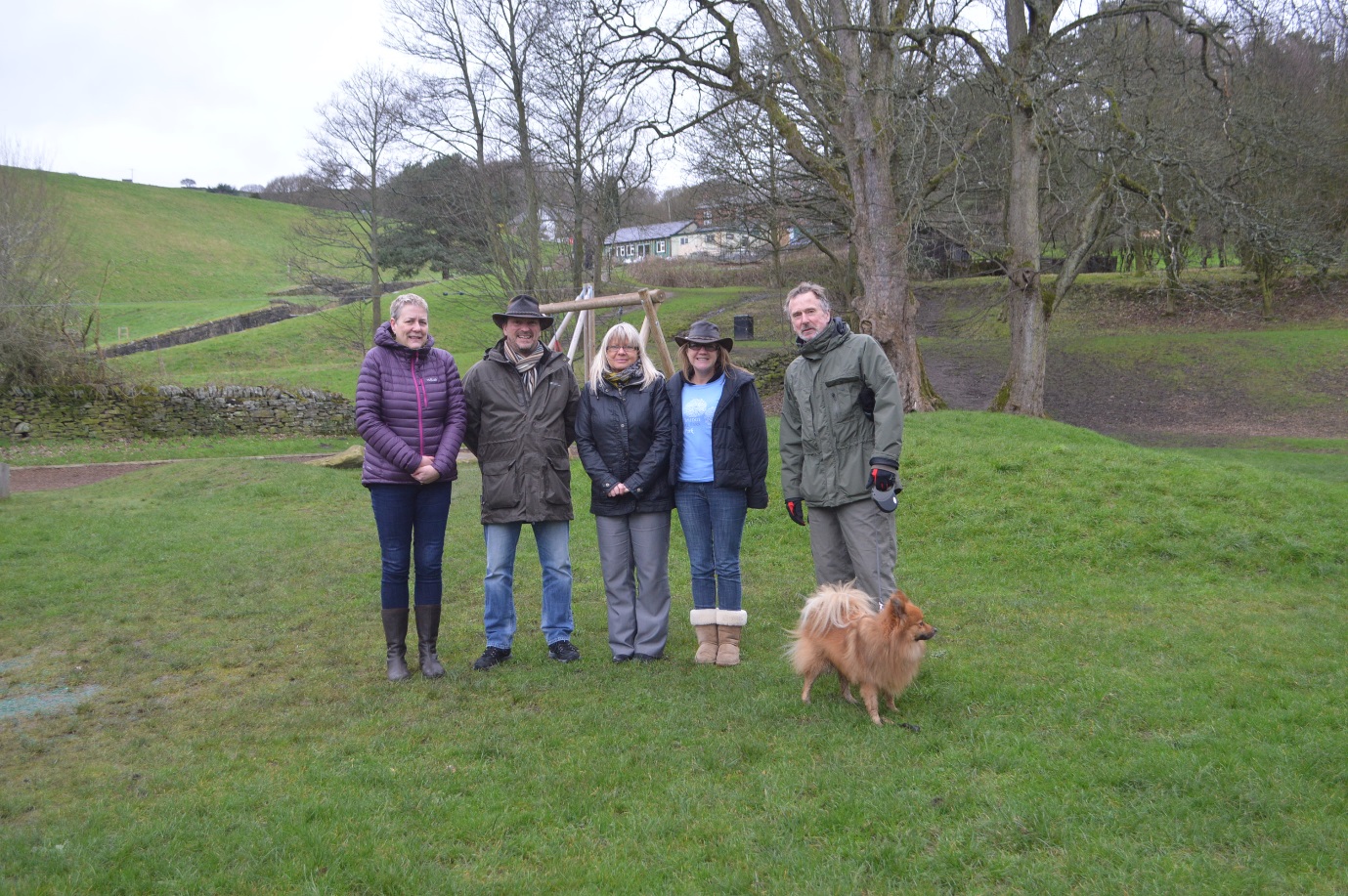 Photo caption: (L – R) Christine Latham (HPBC), Simon Booth, Lorraine Batty manager of Gascoigne Halman Whaley Bridge, Jaine Wright and Dave Beever. (Christine, Simon, Jaine and Dave are all members of the charity group)
Gascoigne Halman raises the roof
The Walton Lea Partnership, which was founded in 1998, provides individual learning, work experience and supported employment for people with learning disabilities complicated by other physical or psychological conditions such as epilepsy, poor mobility and early onset dementia. The charity has over seventy beneficiaries in supported employment within their initiative, which includes gardening, woodwork, floristry, conservation work and working in the Walton Lea shop.
The charity requested funding to replace a large section of roof on the Victorian building they use in Walton, after water damage early last year. The building houses the offices and tea room which need protecting in order to host fundraising events in the future.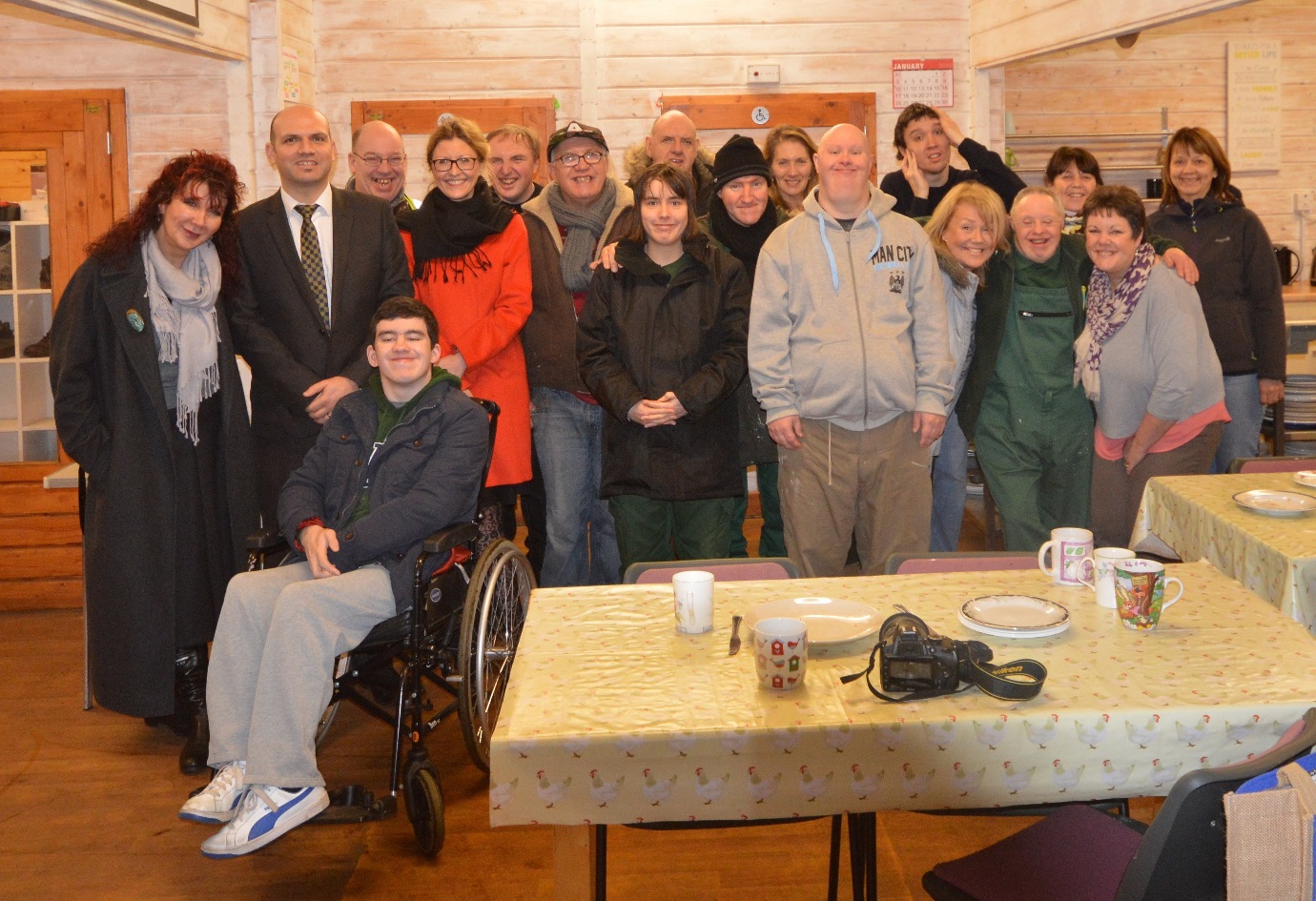 Bobby Shahlavi manager of Gascoigne Halman Lymm and Christine Rees manager of Gascoigne Halman Stockton Heath with beneficiaries of The Walton Lea Partnership.
Gascoigne Halman supports Stockport Foodbank
Stockport Foodbank serves the borough of Stockport, helping people in Hazel Grove, Heaton Norris, Bredbury, Reddish, Offerton and Brinnington. The charity is open six days a week, supplying emergency food to over 8,000 people each year, an estimated 80,000 meals.
There are several reasons why people might use the Foodbank's services, including crises such as redundancy, benefit delay and unexpected bills. In these instances the Foodbank creates a nutritionally balanced emergency food parcel, which can last a family up to three days.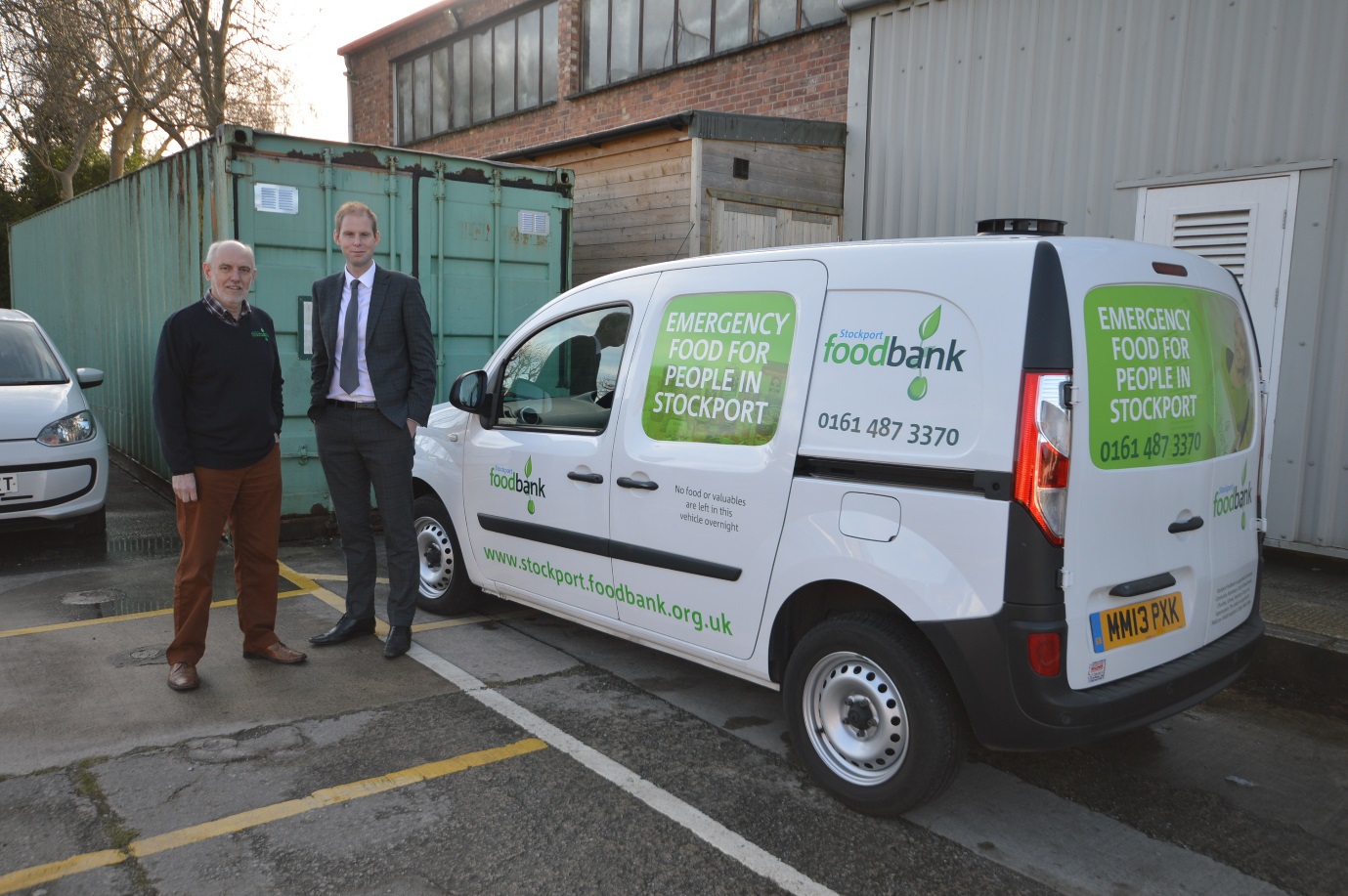 (L-R) Nigel Tedford, project manager at Stockport Foodbank with Richard Leece, manager of Gascoigne Halman Marple Bridge
Gascoigne Halman funds new winter coats for the Drum Corps
The Macclesfield Youth Brass Band, which has been established since 2005, provides children and young people aged between seven and nineteen, the opportunity to learn to play a brass or percussion instrument. The group perform in the local community at concerts and other events as well as entering national competitions.
The charity has over 120 members across their four groups which include, the Youth Band, Junior Band, Training Band and the Drum Corps. All the tutors and helpers give their time on a voluntary basis whilst the charity provides instruments, music, uniforms and all other equipment to members free of charge.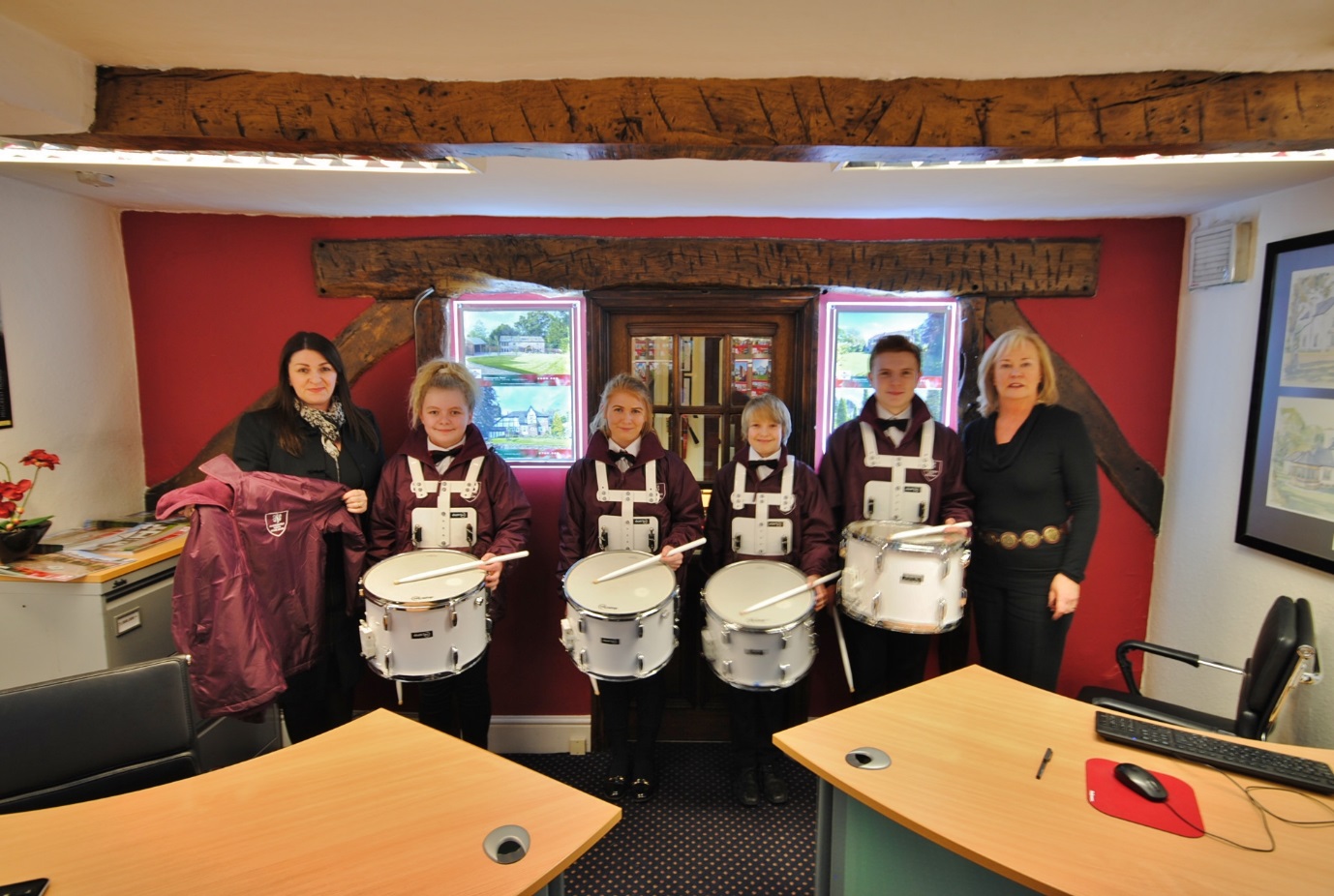 (L-R) Jane Andrew from Gascoigne Halman Prestbury, Mel Powell, Niamh Middlemass, Matt Renshaw and Dom Ritchie members of the Drum Corps and Yvonne Burney from Gascoigne Halman Prestbury